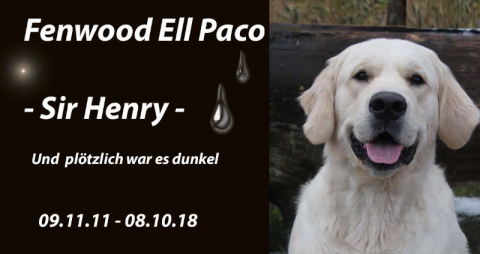 Gestern war noch alles normal – das Leben soll nun ohne dich weitergehen?
Dein Licht wurde ausgeknipst, ganz schnell nur wenige Stunden hat es gedauert.
Es gab nicht mal eine Vorwarnung, dass hätten wir auch nicht ertragen. Wie
sollen wir ohne einander klar kommen? Hoffentlich kommst du klar, warst doch
immer nur Baby – mein Baby und mein Schatten. Mit Danke brauch ich gar nicht anfangen,
wir beide wissen das ….
Ich hoffe nur, dass es viele bunte Bälle gibt da wo du jetzt bist
und hoffentlich ist auch immer jemand da, der die dann für dich wirft.
Ich werde dir keinen einzigen Ball mehr werfen.
Gestern haben wir das letzte Mal gespielt, da hast du schon ein wenig müde gewirkt.
Nachmittags hast Du mir gar nicht mehr gefallen und wir gingen mal kurz nachschauen.
Bis der Arzt kam, hast du mich schon nicht mehr erkannt. Hirntumor – Quatsch – wo soll
der herkommen, so schnell, die haben wohl keine Ahnung, klar beim Sonntagsdienst.
Deine letzte Nacht war nicht schön, gar nicht schön, nicht so wie du es verdient gehabt
hättest. Dann war es Zeit dich gehen zu lassen, was für eine Entscheidung, da war so gar nichts von Regenbogenland um uns herum.
Jeder, der dich kennenlernen durfte und besonders die Besitzer deiner vielen Nachkommen
kennen ihn, den Henrycharme, den ich so sehr vermissen werden. Love you forever and ever and ever.
Life will be different as off today. Everything has changed within hours. Brain tumor, they
said – yesterday – today we have to think about how to manage life without you. Mister charming Henry.
I have to write down this words to realize what happened to us. Hope someone takes care of you, you are not so good in beeing alone, you have always been a baby, my baby and my shaddow. You will always be next to me. Love
you forever and ever and ever.
http://www.ccgoldenretriever.com/wp-content/uploads/2014/02/Header1-e1607020687808.png
0
0
Petra
http://www.ccgoldenretriever.com/wp-content/uploads/2014/02/Header1-e1607020687808.png
Petra
2018-10-09 08:04:24
2018-10-09 08:04:24