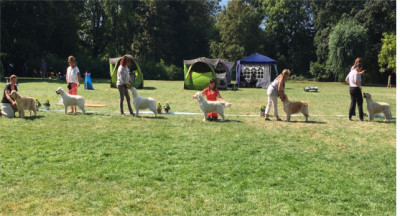 Hot temperature – cool pics SRA Lich Beste Hündinnen
Cappuccino & Creme A Midnight Kiss to Mealan beste Hündin Veteranen
Cappuccino & Creme I Wanna Dance beste Hündin einer sehr grossen und starken Offenen Klasse
Und beste Hündin Gebrauchshundeklasse Tochter meines unvergessenen Mitch – Evita Maja Spirit of Golden Moon
Glückwunsch auch an Petra Stößel für die tollen Ergebnisse der Henry Nachzuchten, Meike und Kerstin auch für das Vorzüglich und shortlist von Cappuccino & Creme Emma G Nation.
Natürlich freue ich mich auch sehr über das Ergebnis von Sissi – Cupcake to CC from Misty Veil, die das zweite Mal Ausstellungsluft geschnuppert hat und in einer starken Jugendklasse den 3. Platz belegt hat, Henry ebenfalls V3 in der Gebrauchshundeklasse (war der Richterin zu schwer für ein Gebrauchshund), ich hab es so beim Abendessen weitergegeben. Mojo – Smint de Atrapasuenos hat es in in einer sehr grossen Offenen Rüdenklasse unter die letzten 5 geschafft.
Trotz Hitze und Donnerwetter auf dem Nachhauseweg ein toller Tag, sehr gut organisierte Ausstellung, viel geschwitzt und viel getratscht.
http://www.ccgoldenretriever.com/wp-content/uploads/2014/02/Header1-e1607020687808.png
0
0
Petra
http://www.ccgoldenretriever.com/wp-content/uploads/2014/02/Header1-e1607020687808.png
Petra
2016-08-29 20:28:45
2016-08-29 20:41:49
28.08.2016 Spezialrassehundeausstellung Hot Day